Best Coffee Grinder for French Press
It can be very difficult trying to find the Best Coffee Grinder for French Press made coffee.
In this article, we present alternatives that make it easy to choose the product that is best for you.
After a lot of research, we present what is important when looking for a quality grinder for your French Press. We investigate why grind size matters, which coffee beans to avoid, and basically what it takes to create a perfect cup of French Press coffee every morning.
So, you've come to the right place. When we had trouble finding a great coffee grinder to use for our French Press, we finally broke down and researched the heck out of it.
This is what we found…
Do You Want the BEST Coffee Grinder For A French Press?
We've compiled all of our notes into this article. In this article you will learn about:
The grind type (specific properties) that work best
What type of beans work well in a French Press
What type of beans don't work as well in a French Press
Which is better: Burr Grinder or Blade Grinder?
Three grinders that are perfect for the French Press (and why)
But first let's take a poll for all of our visitors and see what they do while steeping with their French Press…
If you enjoyed this Poll, you might also enjoy the additional Polls and Quiz questions we have embedded throughout the article. Test your French Press and grinding knowledge. And, see how you stack up against others in terms of grind preference.
Learn This and You Will Make Perfect Coffee Every Time
One of the most important tips you can learn when using a French Press is to use the right size grind when grinding your coffee beans.
The next time you make a cup, take a moment to notice how coarse your grind is versus how easy it is to press down that French Press plunger.
If you go to press and the plunger drops like a rock (without any resistance), you are likely using a grind that is too coarse. A grind that is too coarse can result in a weak cup of coffee.
However, if you press the plunger and you are finding yourself having to put a little muscle into the plunge, then you may have gone too fine with your grind.
This can result in a cup that exhibits bitterness, or is just downright unpleasant to the taste. Plus, you can end up with coffee grounds in your cup as the grind leak out from the French Press plunger.
Here's the deal:
If you are new to the French Press, it's always better to start coarse and tune down toward medium coarseness until the press of the plunger is "just right" and the taste is matches.
Key Takeaway:
If you pay attention to the grind coarseness using the methods above, you can fine tune your grinding to get that perfect cup that just hits the spot!
Only Buy These Types of Coffee Beans for the French Press
Some coffee beans work better in a French Press than others. But, when we say "type", it may not be what you are thinking.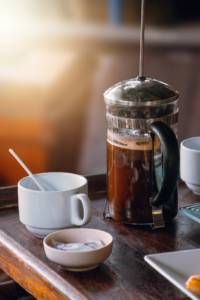 What Type of coffee bean should you look for?
Well, first of all, the most obvious part of this answer is Freshly Ground coffee beans always work best. But, I'm pretty sure you already knew that. So, don't buy already ground coffee and try to use it in your French Press.
You might be able to make it "work". But, trust me… You can do much better!
So, what's the real story?
Most find that a medium to dark roast works better than lighter roasts. The reasons for this are that the oils in the coffee beans have been allowed to release (a medium approaching dark roast starts to release coffee bean oils).
However, too dark of a roast can cause the coffee bean oil to Turn. What we mean by Turn is that it gets overcooked and can become rancid.
You might be wondering:
Some people worry that wet processed coffee beans might not work as well in a French Press. However, the wet processing is completely dried by the time you receive your beans.
The truth is that the grind is more important than where the coffee bean was grown, or how it was processed during the manufacturing phase.
In fact:
The level of roast is more important than where the bean is from or how it is harvested. The more you roast, the more oils are released from the coffee bean.
If you like a darker, more oily coffee bean, you should go for one or two settings coarser. If you prefer a lighter roast, dial it down to a finer setting.
Avoid These Types of Coffee Beans
First of all:
Avoid already ground coffee. Not only is the grind likely not the right coarseness, you will lose significant freshness.
What's more:
We find that burr grinding results in a much smoother more uniform grind than blade grinders.
Why is this important?
If your grind isn't uniform, this can lead to an inconsistent cup of coffee.
With uneven grinds, it's like just giving your coffee bean grinder a random twist on the coarseness dial for every cup.
So, when picking coffee beans for your grinder, you want a bean that does well in a burr grinder.
The type of coffee bean, where it was grown, Arabica versus Robusta typically is NOT important.
Although, that is from a grind perspective. Not from a taste perspective. People typically find Arabica to be much sweeter and less bitter than Robusta.
But, here's the deal:
What is more important is how the coffee bean will do in your burr grinder. How much oil has been released during roasting can be a factor. A coffee bean that is too lightly roasted (too green) can also not do well.
Bottom line:
Use your Burr grinder to control your grind. Don't buy already ground coffee beans. The darker the roast, the coarser to grind.
Burr Mill Coffee Grinder Versus Blade Coffee Grinder
This video is a head to head comparison between a Burr Grinder and a Blade Grinder.
The various traits of each is discussed, and like we found in our other research, the Burr Coffee Grinder is really the best coffee grinder for French Press. You can visually see some of the advantages towards the middle of the video.
Enjoy!
The Best Coffee Grinder For French Press
During our research, it is clear that a Burr grinder provides a much more uniform grind.
For the reasons stated above, a more even grind is key to a consistently delicious cup of coffee.
That's not all:
To have proper flexibility, the level of coarseness also needs to be available. Some coffee grinders just don't go coarse enough.
And, you may find that certain beans just can't give you the proper flavor without enough coarseness in your grind.
We have taken all of these things, plus price into consideration and found these products. Each has different traits that may appeal to you. Below we outline the traits that matter to help you decide whether you want to spend a little extra to get that key feature.
Find below the best Burr Grinders in three different cost classes (from cheapest to the most expensive).
This was a tough decision picking the Best Coffee Grinder for French Press. The manual JavaPresse is a very nice Burr grinder. Especially for the cost.
But, here's the deal:
It came down to our own personal experience of not being awake enough to enjoy manually grinding with our eyes half closed.
If you don't mind the manual grind and don't feel like having to grind your beans yourself will put you into a bad mood, then you should go for the JavaPresse.
But First a Quiz…
Do you know your coffee history? See how you do…
JavaPresse Manual Coffee Grinder (least expensive)
The folks at JavaPresse Coffee Company have created this manual burr coffee grinder that is a #1 seller on Amazon.
What makes this grinder great?
Like you find in most Burr grinders, JavaPresse Manual Coffee Grinder provides a nice even grind. Users consistently comment that with this product you can deliver a consistent grind.
With 18 different coarseness settings, you can use this grinder for espresso (very fine) to French Press (it has 6 different very coarse settings).
Key Takeaway:
This is perfect for a French Press user because it delivers one or two cups worth of grinds at a time. If you need to create a pot or have a large family, you might want to spurge for a product below that won't give you "Martina Navratilova forearm".
This is also perfect for that that camping trip you've been wanting to take, but didn't know what you were going to do for coffee on the trip.
This is a strong candidate for the title of Best Coffee Grinder for French Press.
KRUPS
Precision Grinder Flat Burr Coffee
(medium cost)
KRUPs is a well known name in small appliances. And, among their most well know small appliances, coffee grinders is one of their specialties.
This grinder takes the manual work out of your grinding experience. So, if you are looking for an exercise plan that includes working your grinder, look above. But, if your fine with the one finger button press exercise plan, this product is for you.
The KRUPS Precision Grinder Flat Burr Coffee comes with 12 different grind levels. Each level determines the coarseness of the grind.
Most find that the coarsest setting 12 is perfect for your French Press.
That's the good news and the bad news…
If you go to this coarsest setting and you find you want just a little more coarseness, you don't have anywhere to go.
While this KRUPs product is tried and true for a significant number of users. We actually prefer the KRUPs GVX212 over this product (we personally have had success with the GVX212) for use with a French Press. Too many have had the coarseness issues we talk about above when grinding specifically for the French Press.
Also, if you are looking for the best inexpensive coffee grinder for French Press, KRUPS also makes this very quiet grinder KRUPS Silent Vortex Electric Grinder.
Capresso 560.01 Infinity Burr Grinder (top of the line)
If you want the most grind controls and the least exercise while grinding your coffee (after all you're likely barely awake to be operating such heavy machinery), then this Capresso offering is going to be the best choice for you.
The Capresso 560.01 Infinity Burr Grinder comes with 16 different grind levels. This gives you a fantastic amount of control.
The best part?
The grinds fall through the opening when they get to the right size. This design is what Burr grinding is all about and delivers a consistent grind every time.
And, with commercial grade burr grinders, you can count on long lasting operation.
That's not all…
The product easily breaks down for convenience cleaning. And, with a 1 year warrant, Capresso stands by their product (other burr grinders have had reliability problems).
This is our choice for the title of Best Coffee Grinder for French Press.
Wrap Up: Best Coffee Grinder for French Press
What did we learn?
Control your coarseness!
How? Use a quality Burr Grinder. Why? Uniform grinding is the main reason. And, with an even grind you have more control. With more control you get a consistent cup of coffee every time!
Do You Want the BEST Coffee Grinder For a French Press?
Key Takeaways:
Pick a Burr Grinder with good coarseness range. Tinker with the coarseness until your French Press plunge is just right (not too easily pressed, but also not to hard). Fine tune your settings to find that taste that pops! And, pat yourself on the back every morning for finding and buying the Best Coffee Grinder for French Press.