Coffee Jar Review: Infinity Glass Jars
I'm guessing you are like me when it comes to wanting a convenient to use, air tight coffee jar that keep your beans fresh.
Well, as it turns out, you can absolutely keep your beans fresher by choosing the right container.
In today's review, we put Infinity jars to the test (an actual literal test) to see if it could be the right coffee bean container for our household. We'll tell you how this glass jar held up and if freshness was maintained.
Can Infinity Keep Me Flush with Fresh Coffee Beans?
There is no better way to start my day than a hot cup of freshly brewed coffee as I water my plants in the morning.
I am forever on the lookout for ways to help improve that morning cup, or two, or alright three on a really taxing day!
I recently tried a new storage method for my coffee beans.
For the last couple of years, I have been storing them in this stainless steel container shown in the picture below. Last month I began to store them inside a new Infinity Glass Jar pictured next to my Krups Burr Grinder.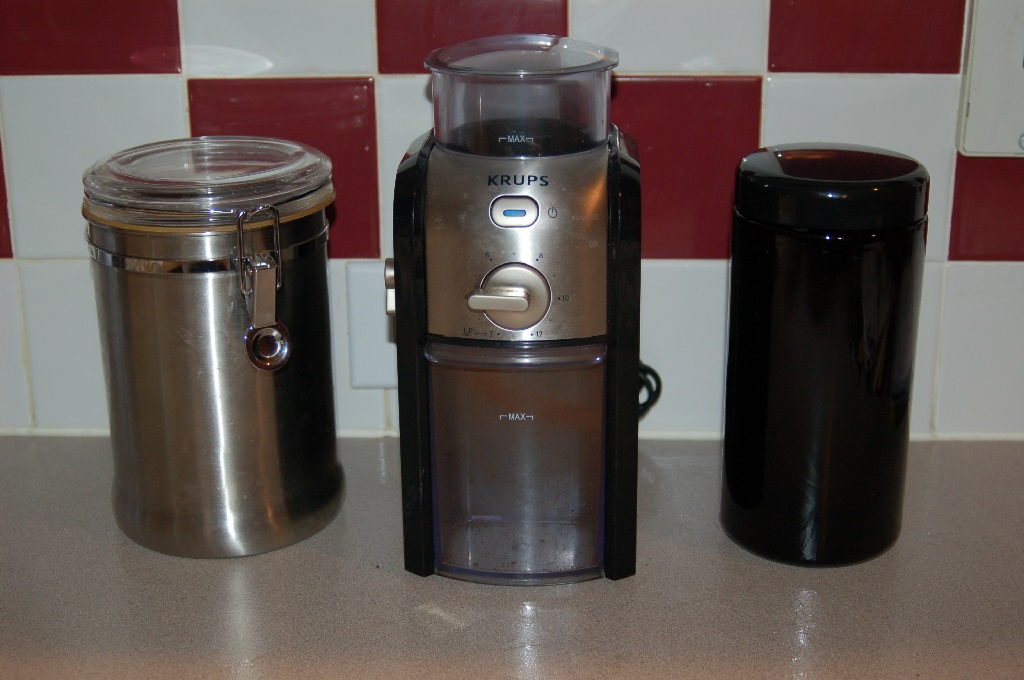 What is an Infinity Glass Jar You May Ask?
Well, Infinity make a wide variety of storage containers designed to keep foods and other ingredients fresher longer. They do this by creating their jars using ultraviolet glass, which is really beautiful by the way.
This type of pigmented glass coffee jar blocks out the harmful visible light rays that degrade organic materials, like my coffee beans, while still allowing the light rays that have been laboratory proven to preserve and extend their shelf life.
The best part?
Every glass jar sold by Infinity includes a guarantee to have an airtight seal, Ultra Violet filtering, and be scent proof. When I close the lid, I can feel the lid twist just a little extra as I close it.
It really seams like the lid is closing extra tight when I twist it that extra half of a centimeter. I can just feel the lid material digging into the jar and completing the seal.
These glass jars naturally preserve and rejuvenate the freshness of foods and organic products for as long as two years.
The Infinity Coffee Bean Freshness Test
My beautiful Infinity glass coffee jar arrived and I quickly filled it with a freshly roasted
Dark Colombian bean
.
I sealed it shut and let it sit on the counter undisturbed for one month.
I have to say that for me few things in life are better than the smell of freshly ground coffee beans first thing in the morning.
We actually received the 1 liter jar. However, the Infinity 500ml Liter glass jar is half the size and provides similar functionality.
How did the Infinity jar perform?
The strong fresh aromatic smell that filled my kitchen upon opening the lid of my Infinity Jar this morning was a strong indicator that a great cup of coffee was coming my way.
I used my Krups GVX212 Burr Grinder to grind my beans. Then, I brewed a pot in my french press, which is my preferred method brewing my coffee.
I was not disappointed.
I noticed no degradation in the quality, freshness, or taste of the beans from those I had brewed fresh with these beans the month before.
What Makes a Jar Better for Coffee Storage?
According to the National Coffee Association (NCA) the best storage for your beans limits exposure to air, moisture, light and heat. Exposing the beans to any of these will compromise the taste of your coffee.
In order to preserve the fresh roasted flavor for as long as possible, they recommend storing coffee in an opaque, air-tight container at room temperature. Avoid clear canisters as they allow light to degrade the flavor of the beans.
A dark and cool location is best for the storage of the beans. I have mine stored on my counter top away from any direct sunlight.
According to the NCA, the retail packaging your beans are sold in is generally not ideal for long-term storage. They recommend investing in storage canisters with an airtight seal.
Read more about storing coffee beans in our in depth article on the topic.
Why does this matter?
After roasting, coffee beans immediately begin to lose freshness. To have the freshest, best tasting coffee, I buy my beans in small batches. I store these beans in an opaque air tight container stored away from direct heat and sunlight.
This canister is the perfect size to hold one to two weeks of coffee. This is the exact amount the NCA recommends to purchase and stored at a time.
BTW, I love the sleek violet look of this new coffee jar canister.