Flavored Spoons for Coffee
I recently found something new (at least new to me) and exciting to have with one of my favorite things in the world: a cup of coffee! Did you know they make flavored spoons for coffee?
Well, they do. And, they are amazing!
If you don't know what I'm talking about, the idea is to take what you might use every day to stir your cup of coffee, and Flavor It.
Do You Want the BEST Flavored Spoons for Coffee?
What does Flavor It really mean?
Flavor It means to soak or coat the spoon or stirring stick with something delicious.
Or, like the thing I saw that turned me on to this, to actually embed the spoon in something delicious. Like chocolate, or some more complicated like a ganash, or a truffle like piece of candy.
So, instead of the spoon at the end of your spoon handle, you have a block of something that melts in your coffee and transcends your cup into something other worldly.
My Flavored Coffee Spoon Inspiration
The inspiration for this article came from a recent visit to a candy factory in Denver.
The factory was for Hammond's candy. We were on a family vacation in Denver and were looking up things to do in the area, and we found this free factory tour.
When we arrived, we first walked into the store part of the building.
What fun!
Everywhere you turned, there was just more and more different types of candy.
Lollipops were everywhere.
You turn the corner, and there's a fudge counter.
Then, it's candy bar's with flavors that sounded delicious.
I even found a tin of root beer mints that I REALLY wanted to buy as a gift for a friend. But, the tin was HUGE. It would have taken a year or more to go through them all.
At every turn there was something new and delicious (at least they all sounded delicious).
The Factory Tour
Before we could get too deep in candy, we signed up for the factory tour.
We met a wonderful and very friendly tour guide that was with us through out the tour. She provided many wonderful facts about the Hammond family and their history.
After a 10 minute or so video, we were brought through a series of hallways that had windows looking into the factory.
The hallways had interesting facts along the way that provided more fascinating tidbits of information about the company.
The first stop along the tour was a view into the working kitchen in the factory.
Behind the window, there were several cooks inside that were at various stages in the process of cooking candy.
We were able to see a giant ball of candy poured from a very large copper bowl out onto a table where it was spread out to cool. The ball of candy was probably the size of a large medicine ball. Maybe two feet in diameter.
The Candy Cane Process
As the cooks let the giant ball cool, they worked on other balls that had come out earlier. The process seemed to include folding the candy over and over again.
Once a ball was cool enough, it would be wrapped in another ball of candy that was a different color. The idea here was that you would have one core color of candy in the center, wrapped by a different color, and possibly even wrapped by a third color.
The giant ball was then inserted into a machine that rolled the ball into a cylinder and kept feeding it forward making it thinner and thinner. This process would end up spitting out a candy can size roll that was striped from each of the colors from each of the giant candy balls.
Giant Candy Balls!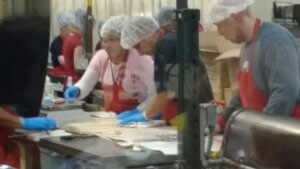 With the candy still somewhat warm, it was very malleable. The next step was performed by three different people.
The first person would pull off about two feet of candy cane material from the extruding machine.
Then, they would twist the striped candy by putting their hand at the end of the candy (away from the machine) and rolling that end against the table. This maneuver would create a beautiful twist to candy cane material.
That person would then measure off about two feet of the twisted candy cane and cut it off and slide that rope of candy cane to the other two folks. They would then move back to the extruding machine to work on the next piece of rope.
The two folks that were receiving two foot pieces of candy cane would take it and manually mold it into the form of a Christmas tree. They would insert the cane stick and move it to another counter for cooling before it was wrapped.
This entire process was fascinating to watch. We really loved getting to see the behind the scenes magic that goes into creating these beautiful Christmas tree candy canes.
The Manufacturing Room
By now, you might be asking, what does this have to do with Flavored Spoons for Coffee ?
Ok, I'm getting there.
The tour continued down the hallway away from the kitchen into the manufacturing room.
So, as we moved down the hallway, one of the facts on the walls stated "10 million pieces made each year".
That number just blew me away! Let me explain why…
Hammond's Candy Math
I couldn't stop thinking about it. Hammond's only has the one factory there in Denver.
And, I was standing in front of all of the equipment and people that were working there. It wasn't a tiny place.
But, it wasn't large either.
There were maybe eight people in the kitchen. And, now that I was in the manufacturing area, I was seeing another ten or so.
The math just was killing me. I asked our knowledgeable tour guide what a full day was. And, she answered that the cooks work 10 hours a day. She also added that the factory was open six days a week.
So, with 52 weeks in a year, 6 days a week, that 312 days. At 10 hours a day, that 3120 hours of factory work a year. Or, 187,200 minutes, or 11,232,000 seconds. That number is somewhat close to 10 million, meaning that this factory is on average making somewhere close to 1 piece of candy a second!
The End of the Candy Factory Tour
End of the Tour? But wait, what about Flavored Coffee Spoons?
Well, as the tour was ending, our tour guide was answering questions and handing out candy canes.
We got the peppermint candy cane, but then heard that they had gingerbread. So, we traded in for the gingerbread.
Of course, we always have a lot of questions when we take these tour guides. And, today was no exception.
I was asking about the working hours (still doing mental math with that 10 million number). And, my spouse was asking about this strange looking "candy cane". I put "candy cane" in quotes because while it did resemble a traditional Tootsie pop, the part you lick was square.
The "candy cane" was also about 20% larger than a Tootsie pop. And, the end looked like a combination of chocolate and some other yellow/white chocolate like substance.
Security Breach? Not Really…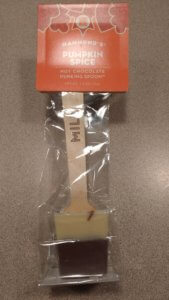 As we were talking, the tour guide looked around to make sure no one was looking, and she punched in a code in the security panel and opened the door to the manufacturing room.
So, she walked over to the "candy cane" packages and plucked two up from the tray.
One was called Natural Milk Chocolate that had nuts sprinkled on top. And, the other was called Pumpkin Spice Milk Chocolate and was half chocolate color and half light colored (kind of a yellow sheen).
When she returned, she then told us about this new product that Hammond's was creating to be sold in Starbuck's stores around the world.
These products were called Hot Chocolate Dunking Spoons.
The tour guide told us the idea for this product is that you put it into your coffee (or any hot drink that would benefit from the chocolate concoction on the end of the stick).
And, as you swirl it around, the chocolate treat on the end of the stick melts into your drink.
As it turns out, the stick wasn't just a stick. It was actually a spoon that is hidden within the candy part at the end of the stick.
Great Idea! But, the Proof Is In the… Chocolate!
Having seen this for the first time, we were both in love with this idea for a product.
Maybe this is old news for many of you, but this seems like such a great idea.
But, having a great idea is one thing. Making it a reality is something completely different.
So, when we found ourselves later in the day with about an hour to kill until our Whiskey tour, we wandered into a local coffee shop and gave the milk chocolate dunking spoon (in my book it counts as a flavored coffee spoon) a try.
The result was not only fun, it was delicious!
The fun part was sharing the spoon with my spouse, passing it back and forth as it melted on the stick. We'd take a sip of the coffee (which was already good). And, then slurp up a layer of chocolate from the end of the spoon. Yummy!
DIY Flavored Spoons For Coffee
While researching this topic, we ran into a nice article where the author put together several creative and tasty looking flavored spoons.
Her site is Hello Homebody and this was a nice article if you want to go all DIY on me.
The Best Flavored Spoons For Coffee
There are many examples of flavored spoons for coffee that have been in existence for a while. They just weren't always exactly spoons.
But, they accomplished the same function. That of stirring your coffee.
One example, is using a stick of cinnamon instead of a spoon to stir your coffee.
When, you stir with your cinnamon stick, the cinnamon is mixed in with your coffee to provide an added kick.
Another example, is chocolate sticks for coffee. This is a similar concept as the Dunking Spoon from Hammond's that I fell in love with.
Below we have researched and found the current best flavored spoons for coffee. Or, sticks… Or, whatever you want to call the thing you put into your coffee that you use to swirl around cream or sugar or whatever is your favorite additive.
Only in this case, the flavored coffee stir sticks are flavored.
Best Flavored Spoons For Coffee
We wanted to feature the Hammond's Dunking Spoon. But, we were disappointed to find that this new product made by Hammond's is only available through their wholesale purchasing plan.
Little did we know at the time how lucky we were to get two FREE samples!
But, our research did find several alternatives that are just as good.
Even if you don't completely agree, you will have a great time testing these just to let us know.
Popbar
Hot Chocolate on a Stick
Popbar is an alternative popsicle company whose primary business is making popsicles that are made from natural ingredients.
Popbar specializes in lactose-free, vegan alternatives to your typical ice cream treat.
They also advertise to be kosher via Rabbi Kaplinsky who is based in Queens, New York.
While searching for flavored spoons for coffee, we found one of Popbar's lesser promoted products.
The product is marketed as Hot Chocolate on a Stick. But, it is essentially the same thing as what I saw at Hammond's.
And, each of the six pops are individually wrapped and make a great gift for a friend.
They are also stable at room temperature. But, don't leave on in the car or you might come back to a bag of chocolate soup!
This product comes in three flavors:
Dark Chocolate
Vanilla Chocolate
Milk Chocolate
The Popbar directions are for placing the chocolate on a stick into a warm glass of milk. But, while some users are enjoying it this way, other users have creatively attempted this with a warm cup of coffee.
And, they are reporting back that this mixture is simply heavenly!
Gourmet Hazelnut Chocolate Flavored Spoons
Seattle Gourmet Foods makes this
great flavored spoons for coffee treat
.
This is about as simple a product as can be. It's basically a spoon dipped in chocolate and nicely wrapped in plastic.
What makes this product unique is the variety of flavors that the chocolaty dipped spoons come in:
Hazelnut
Amaretto
French Vanilla
Mocha
Mint
Irish Crème
Salted Caramel
These have been so popular that they Seattle Gourmet Foods can't keep them on the shelves. They have already sold out of several of the flavors. But, they have worked hard to keep one of their most popular flavors Hazelnut stocked.
So, hurry and get your order in before they sell out again!
This product is the perfect party favor or swag for any occasion. Just pop this into a bag with a small bag of coffee and a thank you note, and your party will be the talk of the town!
The feedback for these has been extremely positive. So, even though you are already a genius for just giving these as a gift, you will not disappoint your recipients when then get home and give them a try.
Chocomize Hot Chocolate on a Stick
Chocomize is a company that has a focus on Corporate gifts. They have a wide variety of products that all center around their specialty chocolates.
And, one of the gifts they provide is the Hot Chocolate on a Stick product. Like many of the products we found in this niche, Chocomize markets this products as a way to make chocolate milk.
However, unlike several of their competitors, Chocomize has recognized that this product is also perfect for dunking in coffee. Their marketing states "Just insert in hot milk, water, or coffee and stir!".
Chocomize also provides practically a laundry list of flavors:
Milk Chocolate & Marshmellows
Milk Chocolate & Salted Caramel
Pure Belgian Dark Chocolate
Pure Belgian Milk Chocolate
White Chocolate
White Chocolate & Vanilla Flavor
Dark Chocolate
Belgian Milk Chocolate with Red Sugar Hearts
Belgian White Chocolate with Red Sugar Hearts
Milk Chocolate & Hazelnut Flavor
Milk Chocolate & Irish Cream Flavor
Milk Chocolate & Cappuccino Flavor
With Chocomize having the Corporate focus, they are especially good with the wrapping and presentation of their product.
This makes for a great gift, not only for corporate events. But, also for events like boy scouts, girl scouts, neighborhood parties, end of year soccer celebrations, and just about any group event.
It also doesn't have to be a group gift. This also works as a great Secret Santa gift, or a special Christmas gift for all of your group of gal pals you hang around with all year.
Ghirardelli Hot Chocolate on a Spoon
Well, if we're going to talk chocolate, we really can't leave out one of the titans of chocolate:
Ghirardelli
.
While Ghirardelli, you know you are getting a quality Hot Chocolate on a Spoon product.
So, even though this product doesn't have a huge following yet, we feel comfortable including there Flavored Spoons for Coffee product in our list.
What makes this product special is it's extra presentation details.
Beautiful tiny marshmallows carefully top the chocolate. And, they float to the top as this chocolate melts.
The chocolate also comes in a tiny cup. This is another thoughtful detail from Ghirardelli.
This extra mile that Ghirardelli goes to allows the gift to sustain a little extra heat (within reason) without having the chocolate wrapping become all smudged and ugly on the inside.
Flavored Spoons for Coffee Conclusions
We stumbled onto this "new" coffee product on a lark while in a Hammond's Candy Factory. Go figure!
And, even though Hammond's seems to recognize they they have a Hot Chocolate product that works well with coffee (they're putting into Starbucks), several of the other players haven't figured that out yet.
But, don't let that stop you from using it like we suggest. Even though the products are marketed as "hot chocolate" treats, trust me that using them in coffee is even more of a treat.
Do You Want the BEST Flavored Spoons for Coffee?
If you like this Sweet Tooth of an article, I think you'll love our article about How To Make Homemade Iced Coffee. Just take a peek for the pictures. We don't think you'll regret it.
If you enjoyed this article about Flavored Spoons for Coffee even half as much as we enjoyed researching the topic, you should be in a very happy place.